Not long ago I wrote an article about
Digitspace
which is a
new DIY hobby web shop for the budget aware hobbyists
. At the time of writing that article I've received a couple of items from the shop, including these super cheap ($1.15USD)
side cutters
and a
wireless doorbell kit
($4.55USD). This article will focus on the assembly and review of that doorbell kit.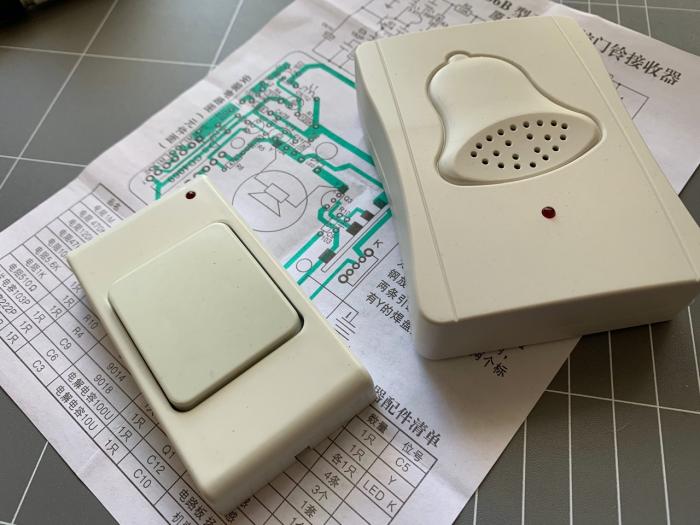 I was actually quite looking forward to putting this kit together because so far in this house we don't have a doorbell installed. Unfortunately it will remain so because the wireless range of this kit is really not suitable for every day use, more on this later.
Overall the kit is a decent started kit, especially if you are learning how to solder and want to experiment with soldering all range of components from resistors to ICs to custom "black blob" breakout boards. There are a total of 3 PCBs included, one for the remote button, and two for the bell itself - this includes the main bell PCB and an additional breakout board that houses a custom IC.
So let's see what was included. The plastic housing for the remote button and bell were part of the kit. All the components required to put both PCBs were there, the only part that was missing was one small screw to keep the button PCB in place inside its housing - which wasn't a big deal. There was a single sheet of A4 paper with "instructions" in Chinese (Mandarin?) and the PCB layout and circuit diagram. The parts list was also included but was of little use. The button PCB had all of the component values printed on it, but the bell PCB didn't, so I had to rely on the circuit diagram to work out values of some of the components. This was fairly trivial.
No batteries were included in the kit. The bell required 2x AA batteries and the button required a single
12V A27 battery
.
Continue reading...