Two and a half years after the
issue was logged
to make it possible to show private repository contributions, GitLab has finally come through and made it possible! I've been following this issue closely and have covered its
non-movement
in the past. I've grown rather disillusioned by the constant delays, so today I was utterly shocked (in a nice way) when I checked GitLab and saw it was finally merged.

Hooray!
So what does that mean? Well I can turn my public profile page from looking barren like this...

To a more respectful version like...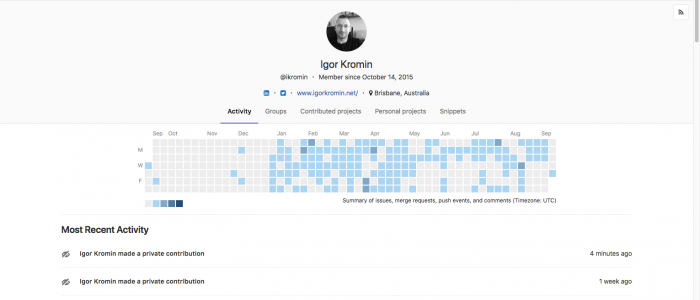 This works by showing stats of all of the private repositories in the public profile page. A very much needed option in my opinion.
It's activated from
Settings
>
Profile
>
Private contributions
. Tick the
'Include private contributions on my profile'
and all the stats for the private commits and issues, etc will be shown in your profile. Perfect!
Thanks to the GitLab team for finally making this possible!
-i