This is part 4 of the series of posts that shows what I've done to the original SGI. Part 3 describes the
fitting of the fan vent and rear panel
.
Below is a list of components that went into the case:
Corsair CX-430 V2 430W ATX power supply
Gigabyte GA-B75M-D3H motherboard
Team Xtreem DDR3 1600 8Gb (2x 4Gb) RAM CL9-9-9-24 (1.5V)
Intel SSD 60GB 330 Series
Intel BX80637I33225 CORE i3-3225 3.30GHz CPU
TP-Link TL-WDN4800 WiFi Network Card
2x WD Green Caviar 2Tb disks WD20EARX
2x Hitachi Deskstar 7K2000 2Tb disks HDS722020ALA330
The OS I chose to run is OS X Lion Server (10.7.5).
The reason behind running Lion Server and not Mountain Lion is because I already had a Lion Server licence running on the laptop that this machine is replacing, so it was a matter of migrating everything from my current server to get it all working.
To install the OS, I followed a
guide on tonymacx86
as well as part of this
post
.
The MultiBeast options I ended up using are (plus a MacPro 3,1 profile - not shown here):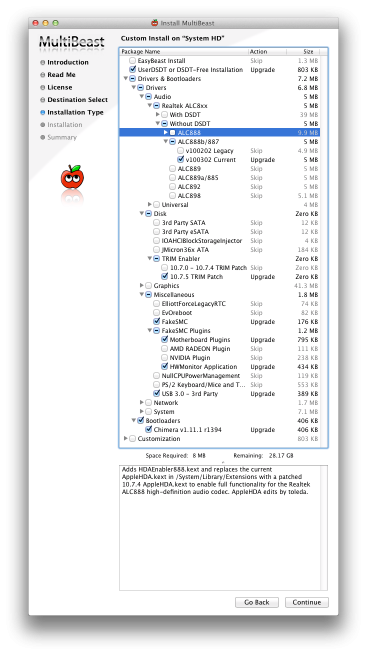 After I could not get
App Store working
, I've decided to install Ethernet drivers, the official driver didn't seem to work, so I installed the Lnx2Mac's Realtek driver.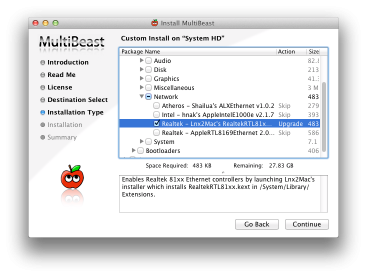 The way I did the installation was by first installing a clean version of OS X Lion, then applying the MultiBeast patches, then using the Migration Assistant to move over all my settings from the previous server. I had to manually reinstall the Server.app, for some reason it did not get automatically migrated.
At the start of the installation I had a problem with the installer not loading and just displaying the cross-out stop sign. I've tracked this down to the USB stick for the installer being plugged into one of the USB 3.0 ports, once I plugged it into a USB 2.0 port, everything loaded OK. It seems that the installer kernel panics in this configuration, however after installation these ports work (after using MultiBeast).
Overall the things are running smoothly, below is a list of working features:
Sound
Networking
Sleep/Wake
Speedstep
HDMI output, did not test VGA/DVI
All USB ports at 2.0 speed only
I don't have a monitor/keyboard/mouse plugged into this machine, it's just sitting under the desk, it's used as a file/backup server. I've underclocked the CPU to 2.0Ghz and set the voltage for RAM to 1.38V, it seems happy with that. Screen sharing is used to do anything on this box. The disks run about 0-5C above ambient temperature and the CPU sits at about 6C above ambient, so heat is not an issue.
-i