This update has been out for a few days now and I finally thought that I'd get it. What does it fix? Well remember when you installed iOS 8 and your custom ringtones were gone? This update supposedly fixes the ability to have those again, but I say it's a few months too late.
When I installed iOS 8 on my iPhone, my custom ringtones were gone off the device completely. Since then I haven't bothered trying to put them back on again and even with this update I probably won't bother either. This update is really a non-event, but it is quite small, coming in at 16.1Mb on my iPad and 16.7Mb on my iPhone. The installation is much quicker than previous updates and didn't need gigabytes of free space on either device.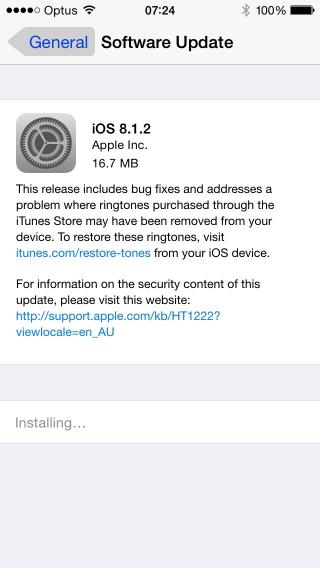 Get it if you like, but unless you have purchased custom ringtones and want to use them again, there is very little point to this one.
-i