This is a simple example on how to create and use a counter inside JMeter. The counter can be set up so that it increments independently for each user i.e. thread, or it can be a global counter. The process to define either type of counter is almost identical.
To create a counter, start with a Thread Group, right click it and select
Add
>
Config Element
>
Counter
.

This will present the counter configuration pane. The
Name
is just what will appear on the left in the Test Plan, the important value to set is the
Reference Name
, this is the variable name that the counter will be referred to in the rest of the project.
Other variables should be configured as desired with a start, increment and maximum parameters. If
Track counter independently for each user
is ticked, the counter will be a per-thread counter instead of a global counter.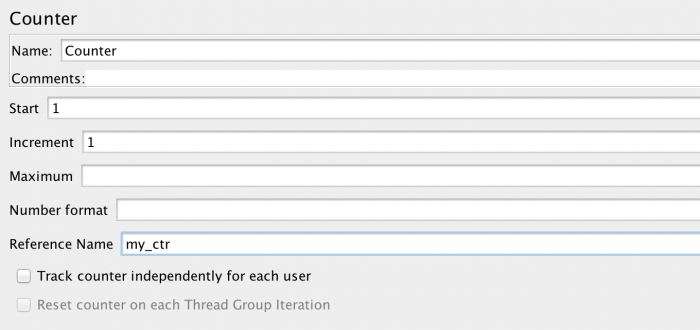 To use the counter, for example in a SOAP/XMP-RPC Request simply refer to it by its name, like so:
-i