More than a year ago now I wrote an article mostly praising
Microsoft's OneNote
app on OS X. Now that
OS X 10.11 El Capitan
has been released, my position on
OneNote
has become less enthusiastic. I really did love aspects of
OneNote
for a time, but for my purposes Apple's updated Notes App does the job better all around.
Even back when I wrote my first post about
OneNote
I noticed how slow it was to sync but it still offered more features than
Notes
did, at the time. However this slowness was grinding away at my enthusiasm. This was very familiar occurrence...

Syncing changes...
I have a
FTTB
Internet connection yet this sync just sits and sits and waits a long time. In the foreground too, so you can't just merrily keep writing other notes!
Still, the slowness I could tolerate, because the formatting features were superb in
OneNote
.
Apple's Notes
was nothing more than a simple text editor back then. Now the game has changed.
Note's
enhancements have made it more or less on par with
OneNote
(although the toolbars don't easily expose all the features). You can include images, formatting feature are improved, notes can be organised by folder and you can even drag any document like a
PDF
right into your note. There's a good hands on article describing Notes in detail
here
.
So I switched. I couldn't tolerate those lengthy syncs that
OneNote
kept on throwing at me. I did sacrifice some of the formatting features but gained a faster, lighter and more
Apple
ecosystem friendly application.
To demonstrate what you can do with
Notes
, here's a quick example I put together. It sits in its own folder, it has an image that I copy/pasted from
Preview
, it has a checklist and shows how text can be formatted.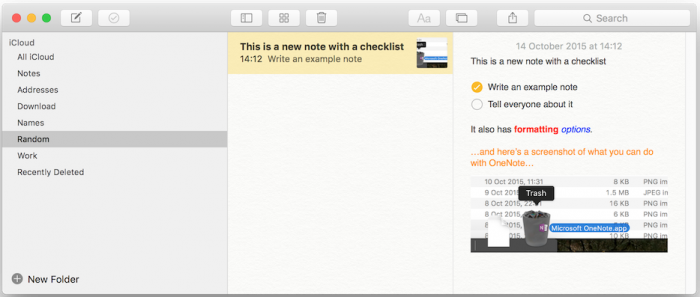 With that, I say drag your
OneNote
app into the
Trash
, go to the
Finder
menu and click
'Empty Trash...'
, you're done!
Enjoy.
-i