IntelliJ IDEA
is a fantastic IDE, much better than any other
IDE
I've used in the past. It's my
IDE
of choice for most of my professional development work so I use it on quite a regular basis. A really cool feature it has is that it's possible to run the
OS
shell in a
Terminal
tab. The default colour scheme of course sets the background to white and foreground to black, not very
Terminal-like
. This is how you can get the
Terminal
tab looking like it should.
Mine looks like this...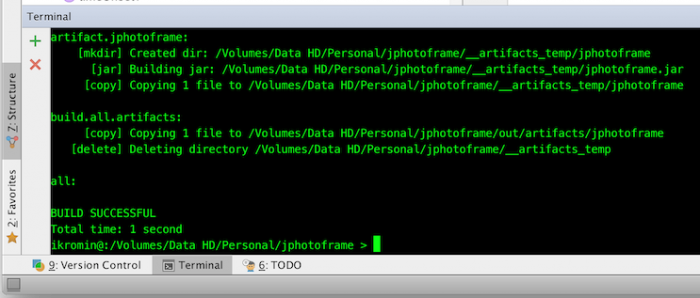 Changing these colours is easy. In the
Preferences
, go to
Editor
>
Colors & Fonts
>
Console
. Then set the
'Console background'
to
Black
.

After that set the
'Console standard output'
to a bright green colour (or orange if you're feeling really nostalgic).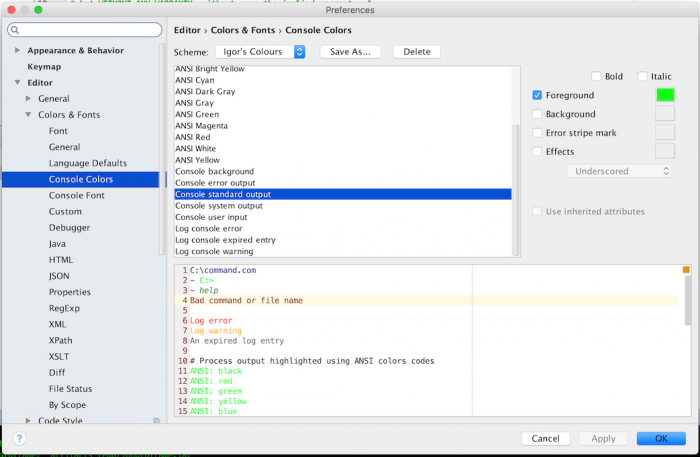 To save, click
OK
. You'll probably notice nothing has changed, this happened to me too. I had to close the
Terminal
tab (by clicking its
X
button) and after I've opened it again, it had the new colours set properly.
I know the
Darcula
scheme exists, but personally I do not like a dark background for code editing, but if you do, that scheme will change your
Terminal
colours as well.
-i