I've recently started moving all my email (personal and all my sites) to
Google G Suite
, formerly knows as
Google Apps for Business
. I was quite impressed with the service and was setting up all of my owned email addresses in
Gmail
when I hit the following error...
Functionality not enabled.
You must send through gmail.com SMTP servers when you send as
[email protected]
However, this functionality is not available for your account. Please contact your domain administrator for more information.

This error comes up when using the
'Add another email address you own'
link in
Settings
>
Accounts and Import
inside
Gmail
.
Fixing it is fairly easy but can take up to an hour for changes to take effect. If you're the
administrator
for your domain, navigate to the following location:
G Suite Admin Console
>
Apps
>
G Suite
>
Gmail
>
Advanced settings
Once you're in the
advanced settings
screen, scroll all the way down to
'Allow users to send mail through an external SMTP server when configuring a "from" address hosted outside your email domains'
. Tick this option and click
'Save'
.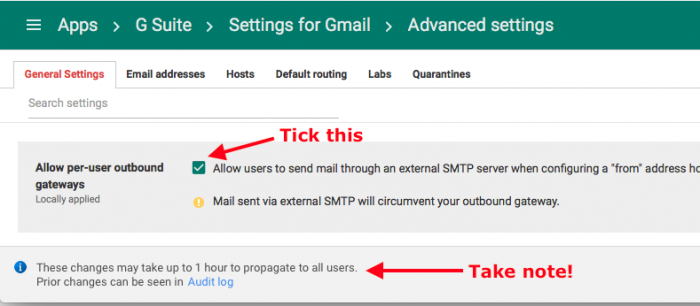 Note that it may take up to 1 hour for these changes to take effect. It certainly didn't work immediately for me, but after waiting some time the changes were working as expected.
Once you've done that, you can go ahead with adding an additional emails the usual way, it should work now.
If you haven't signed up yet,
Google G Suite
is definitely worth it. The first month is free and then it's only $5 per user and gives you unlimited storage space and if you have multiple domains you can set these up as aliases for free. I'll be covering that in another article though.
-i