I've been running the same version of
VMware Fusion
on a number of
OS X
releases and even though it was a rather old verion
(6.0.6)
it continued to work all the way up to and including on
El Capitan
. The official documentation stated that configuration
was not supported
, but it worked. Now I upgraded to
macOS Sierra
and all hell broke loose. None of my
VMs
would start and to make it worse the actual
Fusion App
itself was badly broken.
I first discovered that there was something wrong when I tried to check for updates and was presented with this error message -
'A certificate error occurred for the update server'
.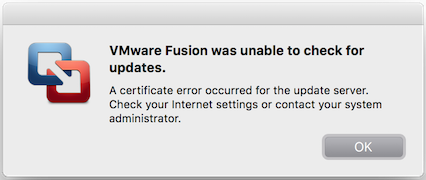 Not very informative, but the logs had more detail...
Error log
CDS error: Failed to finish active transfer for https://softwareupdate.vmware.com/cds/index.xml: CDS_HTTP_CERTIFICATE_ERROR
I could access that
URL
in
Safari
and it had a valid certificate so not sure what was going on there. I gave up trying to do the update at this point.
That's when I realised that my
VMs
would not start.
Every time I'd try and start a
VM
I would get either
'Cannot find a valid peer process to connect to'
or
'Internal error'
pop up.


Among other errors, the logs were filled with messages like this...
Error log
vmx| W110: /Volumes/Data HD/Windows 7 x64.vmwarevm/Windows 7 x64.vmx: Another process is already running for this config file : pid=19653
vmx| I120: Msg_Post: Error
vmx| I120: [msg.ipc.useConfigFileFailed] Failed to get exclusive lock on the configuration file. Another VMware process might be running using this configuration file.
vmx| I120: ----------------------------------------
vmx| I120: Module VMXVmdbIPC initialization failed.
vmx| W110: Failed to initialize VM.
The odd thing, when running
lsof
, and looking for anything that had these files locked, nothing came up. I also tried restarting several times to make sure it wasn't an issue with unloaded KEXTs, that didn't help at all.
Alright at this point I was annoyed and realising that maybe I needed to upgrade. So, I thought I'd go and check the
compatibility matrix for the 8.5 version of Fusion
. That explicitly states that
Sierra
is supported.
Unfortunately my
6.x
license could not be used for
8.5
. I decided to go for the
30-day trial
to see if everything would work and installed the latest
VMware Fusion 8.5
.
It didn't work. My
VMs
still would not start.
However, after restarting I was able to get things rolling. My
VMs
finally started working. Progress!
So there you have it, unless you have the latest version of
Fusion
, good luck running it on
Sierra
. Quite a shame really, but looks like there is no choice but to pay for a new license or license upgrade if you need to keep running
VMs
on your
Mac
and want to run the latest
macOS
.
After running the new VMware for a while I am having my VM crash from time to time. This seems to happen when I try to connect to a VPN inside my Windows 7 VM. The crash is a complete crash of the VMware process and makes the VM lose state, it's just like pulling the plug.
-i