I've had my
JPhotoFrame project
using the
OpenWeatherMap
API
for some time now, at least since
Yahoo messed up its own weather service
. I thought it would be useful to share a bit of code on how to use the
OWM API
, so here it is.
I'm using the
OWM JAPIs 2.5.0.5
library, which is compatible with the
OWM 2.5
version
API
.
In order to use
OWM
programatically, an
API key
is required. This unfortunately means that the end user has to get their own key too, it's free and not a big deal but is a little bit of an annoyance to have to go through. To get an
API key
for
OWM
, first an account is required, one can be created on the
OWM sign-up page
. After signing up, the
API key
is available.
Update: on the updated site there is an API keys tab.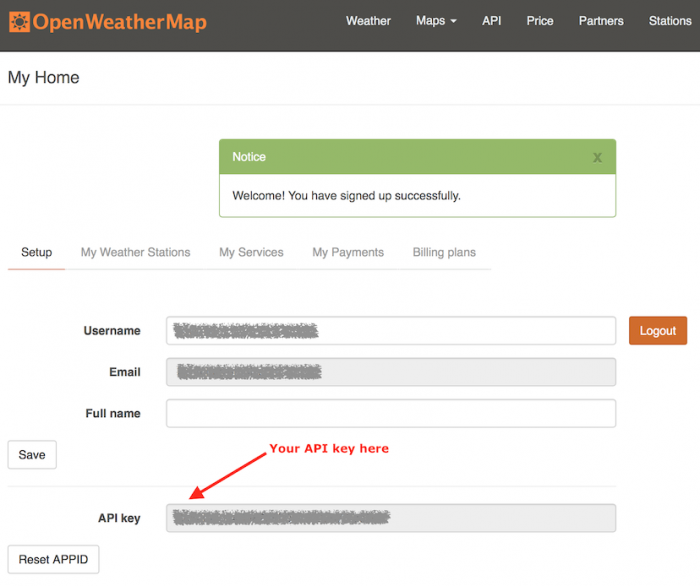 So here's the bit of code to get a
three day forecast
and display the minimum and maximum temperature for those days. All of the code is straight forward, it's just a matter of using the right classes.
OWM Example
public class WeatherTest {
public static final void main(String[] args) {
String owmApiKey = "XXXXXXXXXXXX"; /* YOUR OWM API KEY HERE */
String weatherCity = "Brisbane,AU";
OpenWeatherMap.Units units = (isMetric)
? OpenWeatherMap.Units.METRIC
: OpenWeatherMap.Units.IMPERIAL;
OpenWeatherMap owm = new OpenWeatherMap(units, owmApiKey);
DailyForecast forecast = owm.dailyForecastByCityName(weatherCity, forecastDays);
System.out.println("Weather for: " + forecast.getCityInstance().getCityName());
int numForecasts = forecast.getForecastCount();
for (int i = 0; i < numForecasts; i++) {
DailyForecast.Forecast dayForecast = forecast.getForecastInstance(i);
DailyForecast.Forecast.Temperature temperature = dayForecast.getTemperatureInstance();
System.out.println("\t" + dayForecast.getDateTime());
System.out.println("\tTemperature: " + temperature.getMinimumTemperature() +
" to " + temperature.getMaximumTemperature() + "\n");
catch (IOException | JSONException e) {
This is the output that the code above produces (it's hot in Australia on the first day of 2017!)
Output
Sun Jan 01 11:00:00 EST 2017
Temperature: 23.1 to 27.0
Mon Jan 02 11:00:00 EST 2017
Temperature: 23.25 to 30.04
Tue Jan 03 11:00:00 EST 2017
Temperature: 22.25 to 25.1
-i