I've been using
MAMP
for quite some time for my personal web development work. It's a great App but sometimes it feels like it is dumbing down some things a little bit too much. Selecting which
PHP
version that is used is one of those. It appears that
MAMP
only gives you the option of picking the latest two
PHP
versions that it ships with...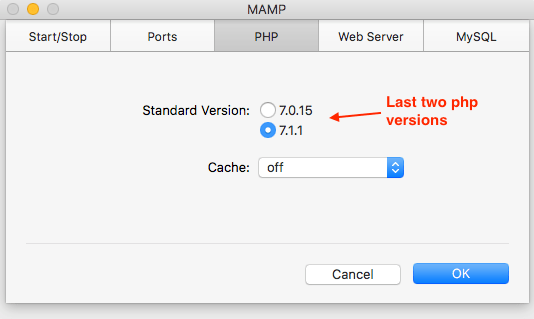 However, you're not limited to using just those two! In fact, if you check the
MAMP
php
directory (
/Applications/MAMP/bin/php
) you will see that there are multiple other versions of
PHP
installed there.
So in my case,
MAMP
had
PHP 7.1.1
as the default version and the only other available choice in the
UI
that it was giving me was version
7.0.15
. I didn't want to use
PHP 7.x
at all since my server was still on
5.6.x
. However,
MAMP
came with
PHP 5.6.30
but wasn't giving me the option to select it.
Fortunately you can force
MAMP
to allow you to select the versions of
PHP
that you want to use with a few directory renames!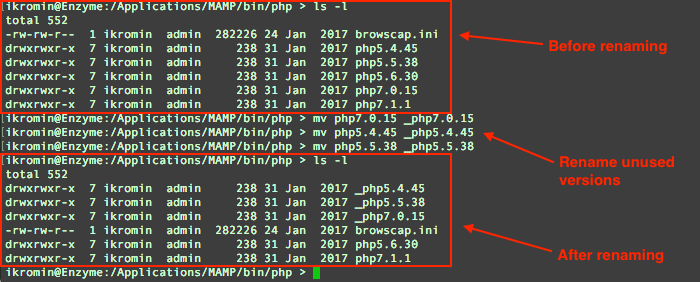 The trick is to rename whichever version of
PHP
you do not wish to use by putting an underscore (
_
) character in front of the original directory name. This is done in the
MAMP
php
directory (
/Applications/MAMP/bin/php
). Rename all but the two versions you are interested in using and restart
MAMP
. After restarting you will be able to pick either of the two versions that you didn't rename.
In my case, I renamed all versions except
7.1.1
and
5.6.30
. Now I can select between
PHP 5.6
and
PHP 7.1
development environments.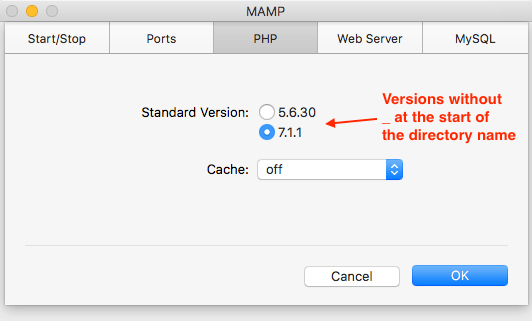 I've not tried this, but if you need a completely different version of
PHP
that isn't shipped with
MAMP
, you should be able to just add it to the
MAMP
php
directory and select it as if it was one of the shipped versions, just follow the steps above to ensure
MAMP
lets you select it. Also follow the naming convention used my
MAMP
or it won't recognise that you've added a new
PHP
version.
-i