The macOS Catalina 10.15.7 upgrade came up for me today, I generally like to keep up-to-date on updates so I let it go ahead. After the update installed (and restarted my Mac), Evernote Skitch kept on crashing every time I tried to open the app with macOS telling me
The application "Skitch.app" can't be opened
...and the crash report having more sinister details...


Here's a bit more of the crash report...
Crash Report
Path: /Applications/Skitch_.app/Contents/MacOS/Skitch
Identifier: com.skitch.skitch
App External ID: 836359105
Code Type: X86-64 (Native)
Responsible: Skitch [2364]
Date/Time: 2020-11-10 13:35:28.932 +1000
OS Version: Mac OS X 10.15.7 (19H15)
Bridge OS Version: 4.6 (17P6610)
Anonymous UUID: 3719A31D-0BE4-DC9D-9066-8DBC955E90D7
Time Awake Since Boot: 1400 seconds
System Integrity Protection: enabled
Exception Type: EXC_CRASH (SIGABRT)
Exception Codes: 0x0000000000000000, 0x0000000000000000
Exception Note: EXC_CORPSE_NOTIFY
Termination Reason: DYLD, [0x1] Library missing
Application Specific Information:
dyld: launch, loading dependent libraries
Library not loaded: @rpath/EDAM.framework/Versions/A/EDAM
Referenced from: /Applications/Skitch_.app/Contents/MacOS/Skitch
0x109e7e000 - 0x10a3c3ff7 +com.skitch.skitch (2.9 - 265153) <66EE73C4-1556-305E-91F0-F427EDF38D1D> /Applications/Skitch_.app/Contents/MacOS/Skitch
0x10a793000 - 0x10a797fff +com.evernote.ENAttachmentToPDF (1.0 - 1) <559DC1E8-5FF9-3E90-BCB9-6152264BE847> /Applications/Skitch_.app/Contents/Frameworks/ENAttachmentToPDF.framework/Versions/A/ENAttachmentToPDF
Looked like the "EDAM" library, whatever it was, was not being found.
This looked strange but I figured maybe what I need to do is
get the latest version
of Skitch from Evernote to fix it. Short story - that is the solution.
Here's a slightly longer version though...the Skitch version that crashes is v2.9, but the latest downloadable version is v2.8.1. Not sure why the latest is a lower version number, maybe due to automatic update grabbing a more recent version from somewhere else, but there you are.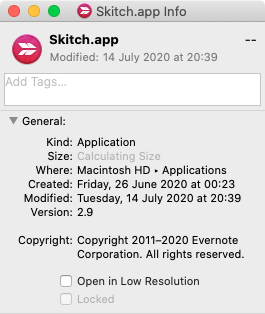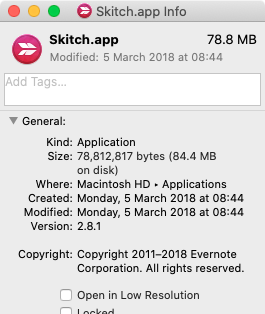 Having installed the version of Skitch from the website, it worked as usual again...

-i