I've been using
iStat Menus
as a quick-look system monitor on my Mac for many years now. It's a great utility that stays in the system menu and lets you see your computer's activity (CPU, memory, network, etc) at a glance. Clicking a graph displays more detailed information. A great tool all around.
However, recently, I had to buy another Mac to replace a failing Mac and didn't particularly want to buy a second license for the software. Due to the nature of my work (and because I just want to), I like to be able to see what my Mac is doing with its CPU, Network and Memory, so I went looking for an alternative solution.
What I found was a free utility called
MenuMeters for OS X
. It works on El Capitan and later versions and is very comparable to iStat Menus, though it does display different information and isn't as polished, but you can't argue with the price.
MenuMeters provides many of the same graphs as iStat Menus, the important ones - CPU, Disk, Memory and Network are all there, and that's all I mostly wanted anyway. Configuration of each of the graphs is a little more detailed than iStat Menus and there are many options to how a graph is displayed, which I really liked.
The only thing that was missing from MenuMeters was a widget to display time and a small pop-up calendar, for that I found another utility called
Itsycal for Mac
and I actually like it much better than the iStat Menus clock widget because it's so much more customisable.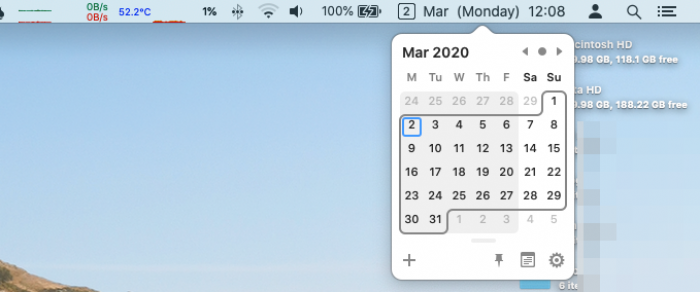 So would I go back to iStat Menus now? Probably not to be completely honest. The free utilities that I've been able to find fulfil my needs for system monitoring and well, they are free and are quite good.
-i